Handmade Custom Tassel Keychain/Bag Tag, the perfect accent made with Genuine Black leather and Gemstones
Description
ONE OF A KIND & MADE TO ORDER
All Hang Tags are unique and custom made, some beads might be different as shown but similar in style.
INCLUDES:
Genuine Leather
Genuine Sterling Silver Twist Accent Rondel
Vintage Trade Bead
Pewter Skulls and Accent Beads
Bone and Horn Beads
Genuine Jade, Amazonite, and Magnesite Gemstones
Brass Made in the USA Tag
These Gemstones are said to have metaphysical properties, Jade for health and well being, Amozonite for health and success, Magnasite for calming and creativity.
Each piece is brand new and unique to itself, handmade beaded leather accent. Approx: 7″ Long
Sourced from around the world.
FRONT AND BACK PICTURED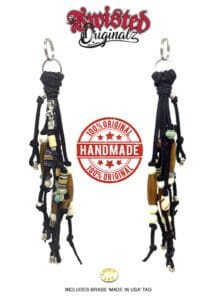 Handcrafted in the USA FREE SHIPPING